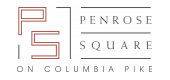 Frequently Asked Questions
How close are you to the metro or Pentagon?
​There are buses at your front door, we also have a shuttle bus service which takes you to Pentagon City metro. The Pentagon is five minutes driving or you can bike there as well.
How much is parking?
​Our garage parking is $60 (for open parking) and $75 (for reserved parking) per vehicle/per month.
Are there washer and dryers in the apartment?
​Yes, all our apartment homes have washer and dryers.
Are utilities included in the rent?
​No, your water/sewage is paid through the property and the electric is paid through Dominion Power.
Are all of your apartments and townhomes carpeted?
Yes, however if you take an apartment on the second floor you can pay an deposit (one month market rent) to have the carpet removed and plank wood flooring installed. The townhomes are the same however, the bedrooms in our flats and townhomes will remain carpeted.
What amenities do we have at Penrose Square?
​We have a dog park, business center, clubhouse (with pool table and foosball table), fitness center, pool and grilling courtyard.